Overview | Purchase | Screenshots | Awards & Reviews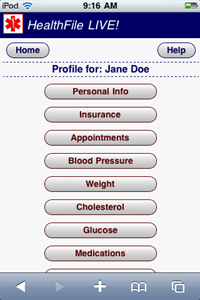 Comprehensive Topic List
iPhone screenshot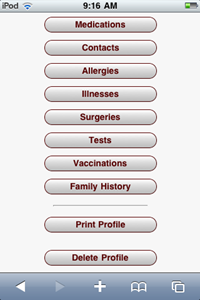 Comprehensive Topic List
iPhone screenshot
HEALTHFILE LIVE!
Meet HealthFile LIVE! - the next generation of our best-selling and award winning HealthFile medical and personal health records and information software. The web application is an online system, securely accessible from any desktop computer or from any mobile device with a browser, including iPhone, iPod, iPad, Android, Blackberry, WebOS, Windows Phone 7, Symbian and many others. Any phone or computer (PC or Mac) with an internet connection can access HealthFile LIVE!
You now keep track of insurance, emergency contacts, allergies, illnesses, surgeries, appointments, medications, vaccinations, tests, blood pressure, weight, glucose, cholesterol, family history, and more right in the palm of your hand! Great for people on diets, with diabetes, high blood pressure, high cholesterol, etc. All of this for about a $1 per month. Your subscription is secured by your username and password, and accessed from our secure server. This allows you to access your HealthFile LIVE! medical and health information from any desktop computer or any mobile phone quickly and easily.

Purchase Options:
After purchasing, you will be immediately provided with an activation code. After your create a WakefieldSoft LIVE! account, enter the activation code and order number to activate your subscription. If you used a free trial first, and purchased from your WakefieldSoft LIVE! account, the subscription should be automatically activated.

| | | |
| --- | --- | --- |
| HealthFile LIVE! - 1 year subscription | $15.99 | |

All purchases are done securely by our ecommerce provider Paypal. If you have not purchased from us or Paypal before, you will need to register for a new account during the checkout process. This is separate from your WakefieldSoft LIVE! account registration. Thank you.
Software features:
Store Multiple Pofiles - store information for all family members together
Customizable Master Lists - Define your own list of locations, providers (physicians), provider types, pharmacies, contacts, and insurance companies for easy dropdown access.
Personal - store basic personal information including birthday, address, normal health values.
Legal - store organ donor status, will information, and other legal type items.
Insurance - store information on all types of insurance; saves records to a master list for use in other profiles.
Contacts - store emergency contact information; saves records to a master list for use in other profiles
Allergies - store information on any allergies for the personal profile
Illnesses - store information on previous illness, diseases, or medical conditions including symptoms, diagnosis, treatment, etc
Surgeries - store information on previous surgeries or hospitalizations including date, instructions, etc
Appointments - store information on any appointment, including date, time, reason, diagnosis, follow-up date, etc
Medications - store information on medications or vitamins being taken, or previously taken, and prescription details
Vaccinations - store information on shots and vaccinations, including date, physician, etc
Tests - store information on any kind of test or exam, including result, goal, physician, location, etc
Blood Pressure - store blood pressure test results, including pulse, date, time, activity, etc
Weight - store weight measurements, including date, time, and notes
Glucose - store blood sugar test results, including insulin amount, carbs, date, time, event, etc
Cholesterol - store cholesterol test results, including total, LDL, HDL, triglycerides, date, time, etc
Family History - store family history information to record illnesses and conditions of related family members
Print Reports for any and all topics, even by date range
Performance and Security features:
Data is stored and accessed with a secure server (SSL)
Access is secure using your username and password
Sensitive information is encrypted for additional security
Optimized for display on mobile devices including iPhone, Android, and Blackberry
Very fast due to compact and clean application and interface
Small data plan usage for mobile devices due to efficient design
Access your data anytime and anywhere
Regular server backups for your protection
Installation or upgrading issues are gone forever
Changing phones or devices or computers is not a problem
Instantly gain access to new features as they are added
Losing a phone or laptop does not lose your data
No advertising or spam, unlike other online apps
Maintenance free
Free Trial:
You may register for a WakefieldSoft LIVE! account and do a 14 day trial of HealthFile LIVE! You can purchase a full subscription at any time during or after the trial period.

Create an account and get a 14 day free trial here: WakefieldSoft LIVE!