Overview | Purchase | Download | Features | Screenshots | Awards & Reviews

Multiple sort and
filter options
(Palm OS® screenshot)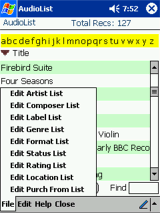 Define your own
genres, ratings, etc.
(Windows Mobile screenshot)

OVERVIEW:
AudioList™ is your complete audio, CD, MP3, and music organization and inventory software for Blackberry, Palm OS and webOS handhelds, Pocket PC or Windows Mobile handhelds, and Windows PCs! Keep track of your collection of tapes, CDs, music, MP3s, etc. that you own, that you have heard, that you have loaned, that you want to buy, and more.

View our Getting Started Guide (PDF): Blackberry or Palm OS or Windows Mobile

Purchase Options:
This product is no longer sold or supported. The useful life for the available platforms has essentially ended. You can still download the installer if you are a previous customer using the download link above. Thank you.