Overview | Purchase | Download | Features | Screenshots | Awards & Reviews

Easy to use topics screen to access
your medical information quickly.
(Palm screenshot)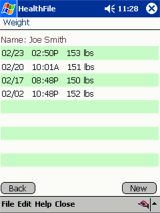 View many topics in list format.
Spot trends in data.
(Windows Mobile screenshot)


OVERVIEW:

NOTICE: If you have a data connected phone, such as iPhone, iPod, iPad, Android, Droid, Blackberry, Web OS (Pre, Pixi), Windows Phone 7, etc then you should be looking at our HealthFile LIVE!

HealthFile™ is your complete health and personal medical records and information organization software for Palm OS, Pocket PC, and Windows Mobile handheld PDAs, and it includes Windows PC companion software! Keep track of insurance, emergency contacts, allergies, illnesses, surgeries, appointments, medications, vaccinations, tests, blood pressure, weight, glucose, cholesterol, family history, and more! Great for people on diets, with diabetes, high blood pressure, high cholesterol, etc.

View our Getting Started Guide (PDF): Palm OS or Windows Mobile

Purchase Options:
This product is no longer sold or supported. The useful life for the available platforms has essentially ended. You can still download the installer if you are a previous customer using the download link above. Thank you.