Overview | Purchase | Download | Features | Screenshots | Awards & Reviews

Easy to use topics screen to access
your information quickly.
(Palm OS® screenshot)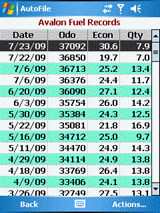 View many topics in list format.
Spot trends in data.
(Pocket PC screenshot)

OVERVIEW:
AutoFile™ is your vehicle and automotive fuel economy (mileage), trips (business, personal), and service / expense tracking software for Palm OS®, Pocket PC, and Windows Mobile handheld PDAs, and it includes Windows PC companion software! Keep track of multiple vehicles easily and quickly on your handheld or desktop PC. Generates service reminders by date and/or odometer reading. Print reports, generate graphs, import and export data. Easily generate reports for IRS or tax purposes. It's time to drop the paper log book and switch to AutoFile today!

View our Getting Started Guide (PDF): Palm OS or Windows Mobile



Purchase Options:
This product is no longer sold or supported. The useful life for the available platforms has essentially ended. You can still download the installer if you are a previous customer using the download link above. Thank you.